A few months back, I'd posted about saying goodbye to my Boxster Spyder 981 while pondering what automotive fancy might strike me next. I soon decided that, rather than sinking tens of thousands into an additional classic car, or ensnaring myself in a 36-month lease for a new car which I couldn't quite afford, I'd spend roughly half that amount to breathe new life into two dear friends: The Old Girl, my '94 SL 320, and Klaus, my '67 BMW 2000C. While Klaus will be rejuvenated this Fall, The Old Girl came back to me in mid-August, just in the nick of time for the drive from LA to Monterey Car Week this past weekend. She is a dream, but before telling you all about her, first I must digress, so please get comfy.
I've been working under the assumption, for the past few years in particular, that I have an increasingly appalling memory, and assumed it to be a function of getting older – I'm in my 49th year – combined with the steady trickle of gin year-round, rosé in the summertime, and Sangiovese the rest of the time. But upon closer rumination of this idea, I've found two culprits to blame for my loss – my temporary loss, I am excited to report – of dear memories that were seeming to get fuzzier and fuzzier until vanishing altogether: consumerism, and digitization. Consumerism urges me to buy new things, all the time, shiny new things to replace the old things in my life which are rich with the stories, context and history that I depend upon – I now realize – to remind me of my past each and every time I use them, and see them, and touch them. I depend upon fragrance, be it perfume or cologne, diesel fumes or roasting coffee or water from a garden hose evaporating from a hot sidewalk on a summer's day, in this same way.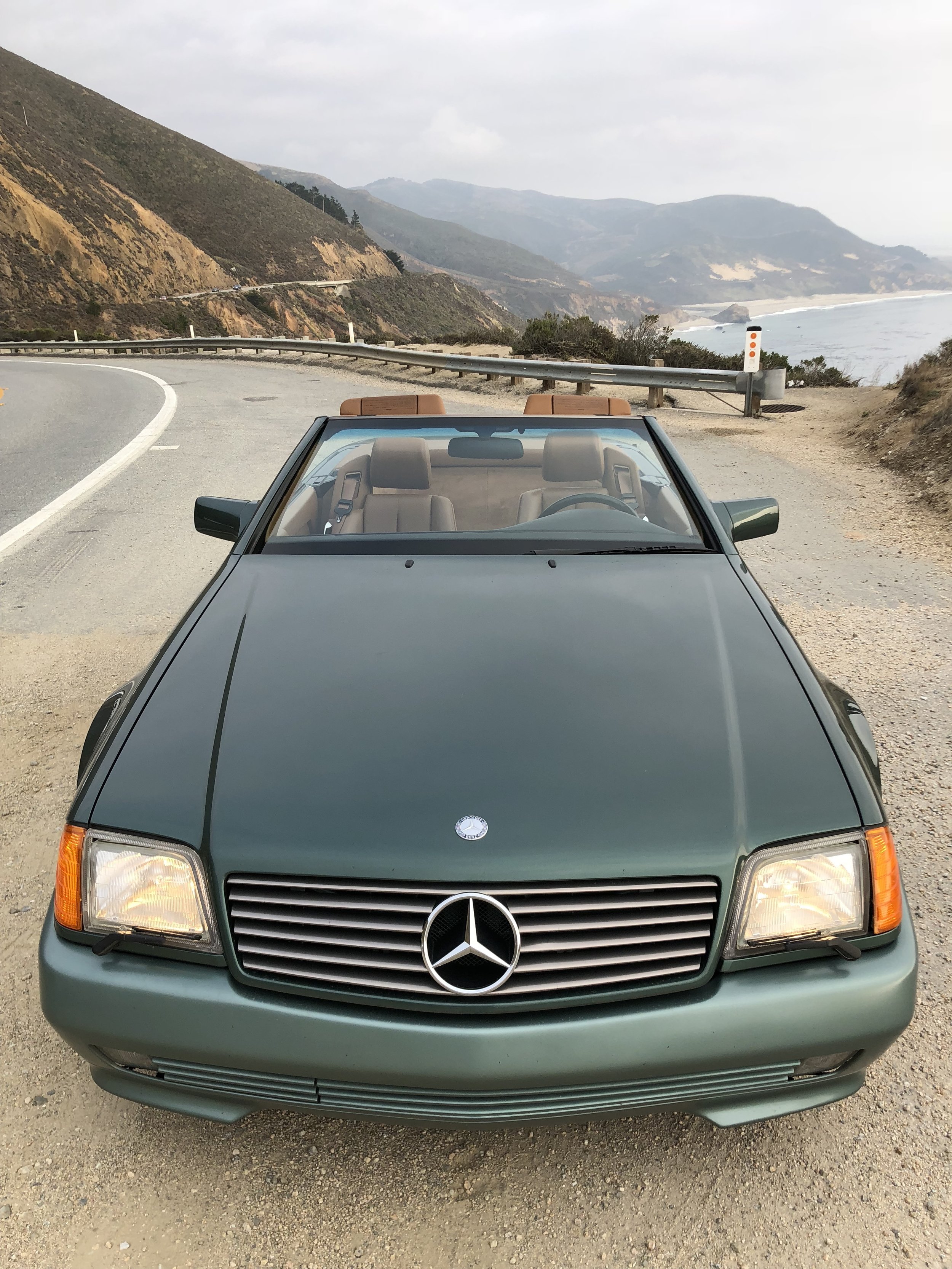 Digitization robs my memories in two ways. With music, it means that mix-tapes are a thing of the past, as I now drag and drop with Spotify to create a playlist, forgoing that intimate and tactile process of sticking my fingers into the nubby wheels of the plastic cassette, turning the wheels clockwise a rotation or two to perfectly time the drop of that next song just right; and I no longer, when I want to play music, walk my hands through my volumes of black CD binders, the artists' discs interspersed with their album art salvaged from the stacks of long-ago discarded jewel boxes, together with ticket stubs from their concerts I'd attended. I don't remember having seen Janet Jackson's "Janet" world tour in 1994 – in fact, I'd recently wished, when she canceled a show for which my husband and I had tickets in LA this past July, that I'd seen her back in her heyday: apparently I did – at The Great Western Forum on Saturday, March 5th to be precise – as there's the ticket stub in the clear vinyl sleeve between "Rhythm Nation 1814" and "Control." The digitization of social interaction – by which I mean the advent of social media – robs me of more than just my associative memories; it's been robbing me of my very humanity. I'm at the stage in social interactions where I no longer have the time to even text the words "be right back" – that's now reduced to "brb" – because I'm simply too busy doing other things that seem to be more important but which are, in actuality, just distractions; as is the distraction of wanting or having too many shiny new things. I had become lost.
I'm not saying I'm done shopping, be it for new cars or new clothes – Sebastian at Saks would surely miss me, I like to think – and I still want to put a swimming pool in our back garden. I'm not done with social media, nor am I tempted to post the De Rigueur, ultimately ironic pronouncement that "I'm taking a break from Facebook for a while" – which would signal that I still need people on Facebook to "like" and approve of my decision to step away. Rather I'm saying that now I've identified these two culprits, I'm keeping a close eye on both. As I do so, something magical is happening: my memories are being returned to me. I've discovered it's more important to want what I have than have what I want.
My Mercedes-Benz SL 320 R129 was purchased new by my mother and stepfather in 1994. My stepfather retired that year, and as planned they were returning from Los Angeles back to the Bay Area, where they had met and then married in 1979, the second marriage for them both. My stepfather's work had taken us from Los Altos Hills to Beverly Hills in 1982, but neither of them ever took to the place, and twelve years later, they were happy to leave. Mom had always wanted a Mercedes convertible, but my stepfather kept a low profile, and my mother agreed that the sort of people who typically drove SL's in LA in the 90s were not low profile people. So as they made their exodus at last, they bought the SL at Mercedes-Benz of Beverly Hills, and a few weeks later trucked the car together with all their belongings to their new house near Stanford University. I was 24 when they got the SL, and to me it was, as my friend and Wall Street Journal journalist Dan Neil once said, "like a spaceship." It was the first car in the world to do a number of things that would become industry standards in the years to come: a keyless, infrared locking system that illuminates and dims the cabin upon entry and exit; a single-blade, multi-speed windshield wiper which speeds and slows depending upon the velocity of your travel; an automatically deployed rollbar to protect passengers should the unthinkable happen, together with the added protection of antilock brakes, passenger and driver side airbags and seatbelt tensioners – (the latter of which I experienced first-hand when I rear-ended a car on Hollywood Boulevard, on the morning of a George Michael concert at the Forum, still emerging from an Ambien-induced sleep following a very restless night) – but that is a story for another day. The SL's penultimate party trick that no one at the time could quite believe: a fully automatic convertible hood which requires no manual assistance to open and close. The removable hard top, which would be stored by your local Mercedes-Benz dealer, who would put it on or take it off for you twice a year as a courtesy – can you imagine such a courtesy being afforded today? – has pins at its four corners which are drawn-in by the Mercedes' four hydraulic latches that fasten the top for installation, and repel the hardtop for removal, sealing it air and watertight, time after time.
In 2008 I bought the SL, which is Spruce Green with a Saddle brown interior and Brown canvas top, from my parents when I returned to LA from New York, where I'd lived and worked for twelve years. Mom wasn't using the Mercedes much anymore, as her BMW 330i has a bit more pep, four doors and seats, and is easier for her to maneuver. She and my step-father were happy for me to have the SL, after all those years of lusting after this object which had been for me, in my earlier years, strictly off-limits. Over the ten years and thirty thousand miles that I've owned the car, I've only found two engineering "flaws." The car's original rear-view mirror with automatic day/night function was electrically rather than manually adjusted, using a tiny servo motor built into its housing that pivoted it into position – together with the door mirrors, seats and headrests, and steering column – when the driver selected his or her pre-programmed memory settings. The trouble being that the servo motor places too much un-sprung weight in the mirror's housing, and over time its plastic gears strip, leaving the rear-view mirror dangling like a bobble-headed doll. The electrically adjustable rear-view mirror is no longer available from Mercedes: the engineers redeemed themselves later in the SL's production run by swapping this complication for a conventional manually-adjusted solution which adds three programmable buttons for remote control garage or gate openers. Getting this new mirror is among the upgrades I bestowed upon The Old Girl – together with removing all her dents, repainting her scuffed bumpers and repairing her crushed passenger-side rocker panel – and like most things Mercedes, the new mirror's cost at $1350 was steep, but worth it.
Engineering mistake number two was the type of wiring Mercedes used for some of the car's electricals: over time, the wiring degrades and snaps, and this applies to both a high cost item – the wiring harness – as well as the simpler-to-fix third brake light. Given that this car is nearly twenty-five years old, I'd say the team of engineers and designers that built this car were masters of their art.
In the SL's driver's side door pocket still is my Mom's green rain anorak and matching collapsible umbrella, with its glossy painted walnut handle and protective green nylon sleeve with round metal snap at its base, together with the worn, faded purple terrycloth socks she'd place over the outside mirrors to keep the robin, who each Spring would return to perch on the ledge of the mirrors' housings, hunting and pecking at its reflected double as birds do, from marring the mirrored surface once it made its seasonal return, and an awkwardly refolded map of the streets of San Francisco. Below the center armrest, in the storage bin for compact cassettes, is Mom's favorite tape, made for her by my sister, her handwriting in faded brown felt-tip pen noting the date, December 1976, and the album, Neil Diamond's "Beautiful Noise." And just like that, I am home once again.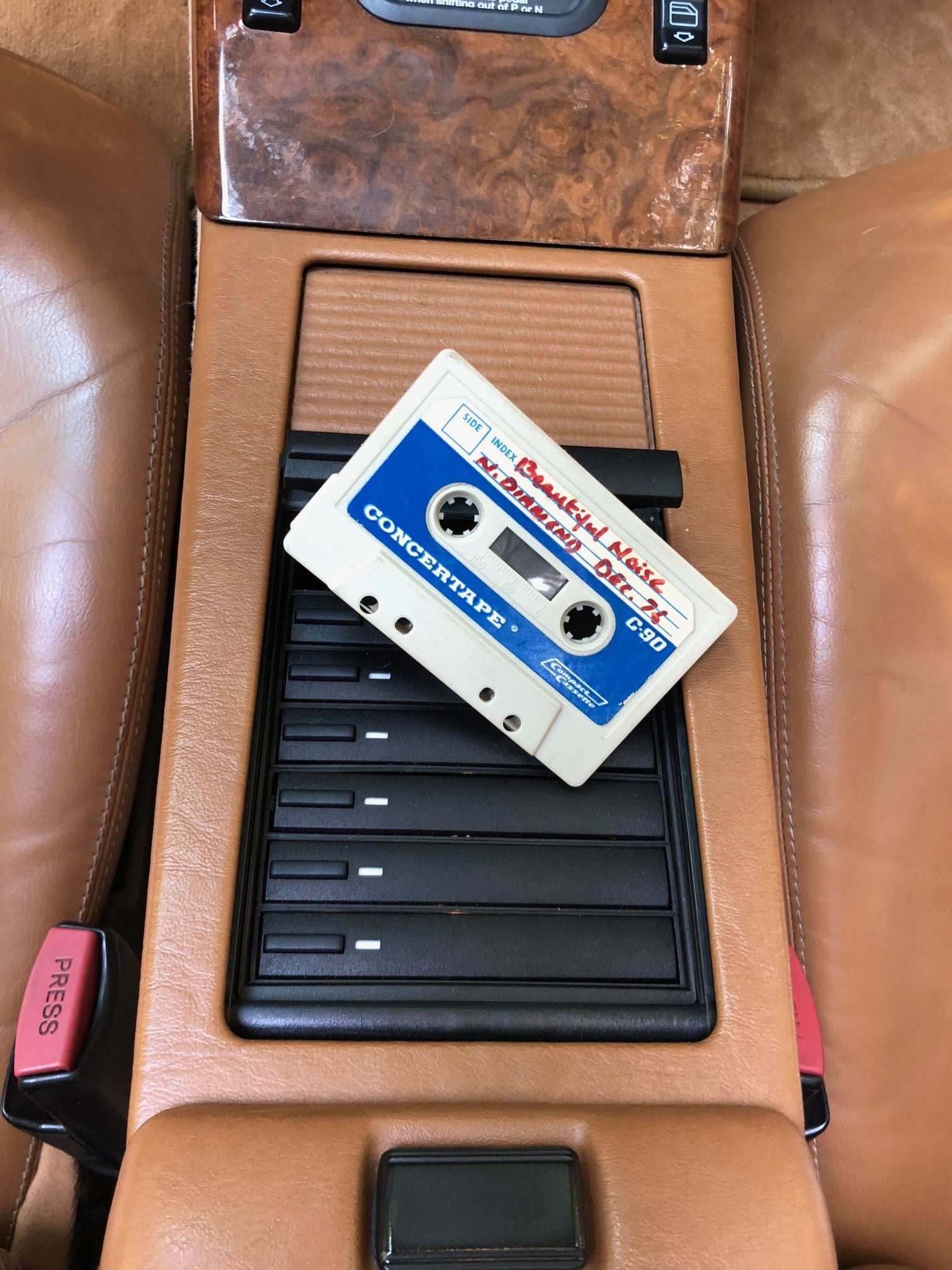 Post Script: Peter Mikeloff of Micheloff Brothers Body Shop in Glendale (CA) performed all of the cosmetics for The Old Girl. If you need it done yesterday, don't call Peter: if you want it done right, then he's your man at (818) 246-8423. Richard Franz at German Motors (also located in Glendale) fixed all the mechanicals, and he is likewise superb, and can be reached at (818) 543-7020. Happy Motoring!